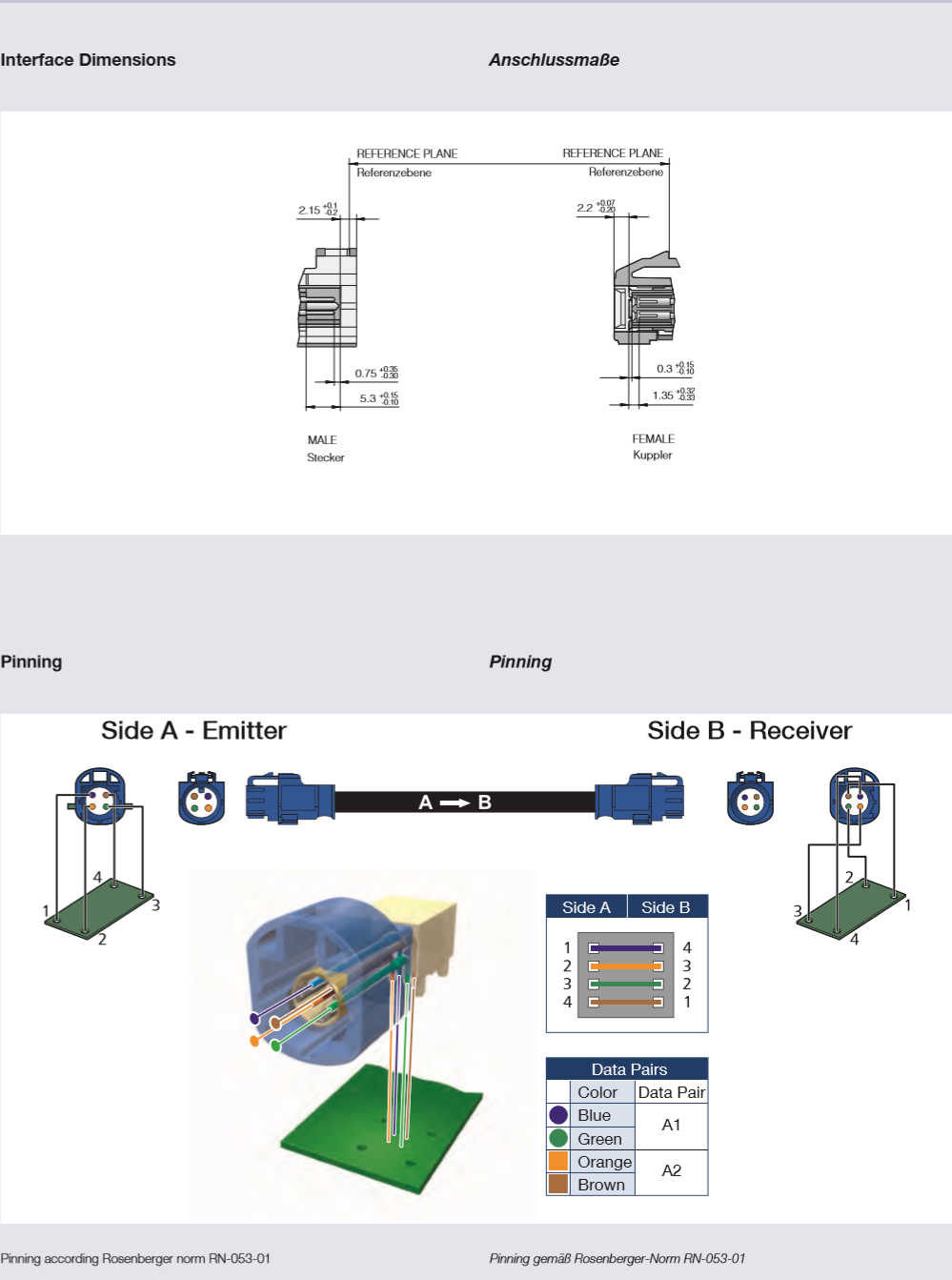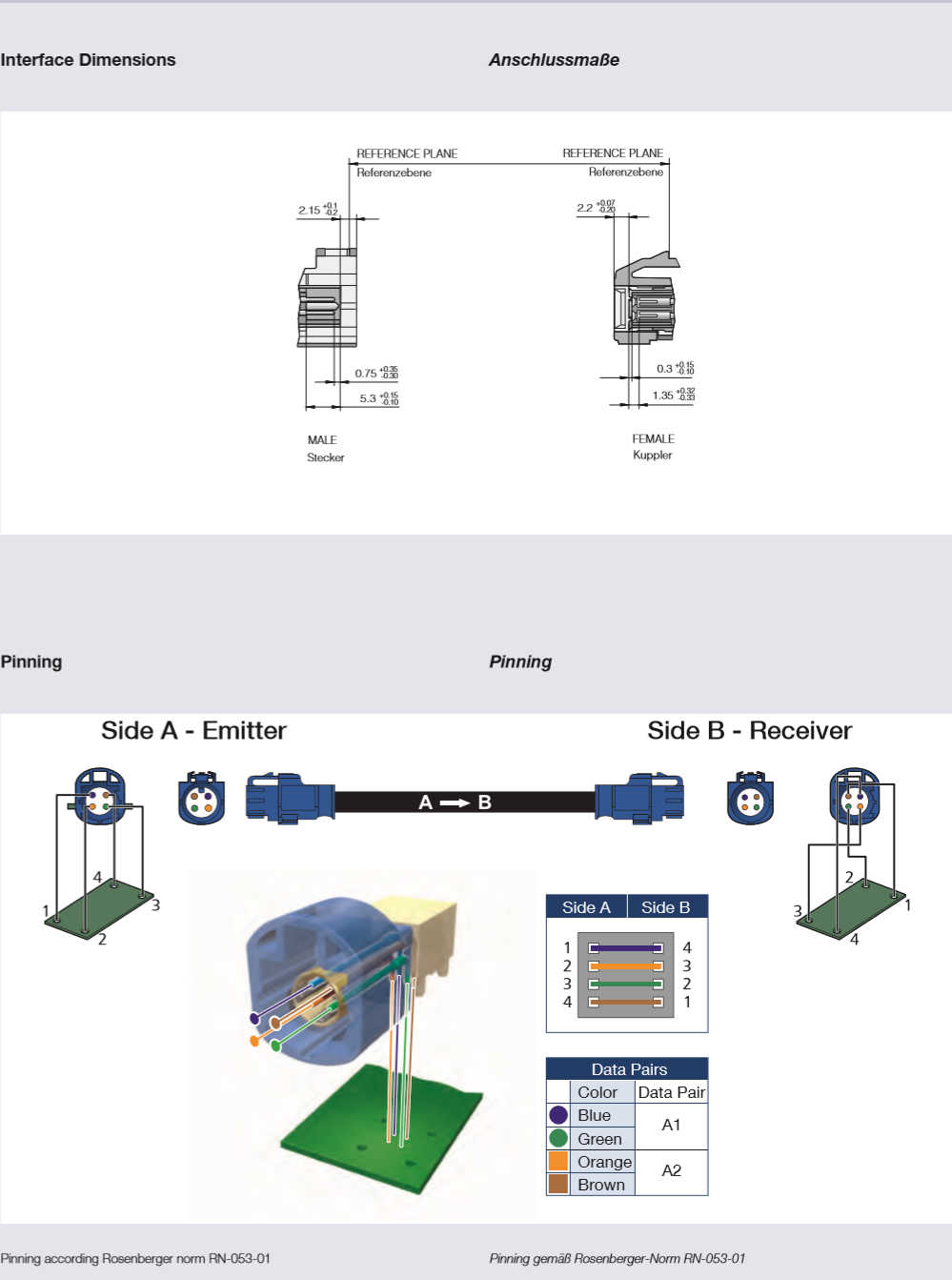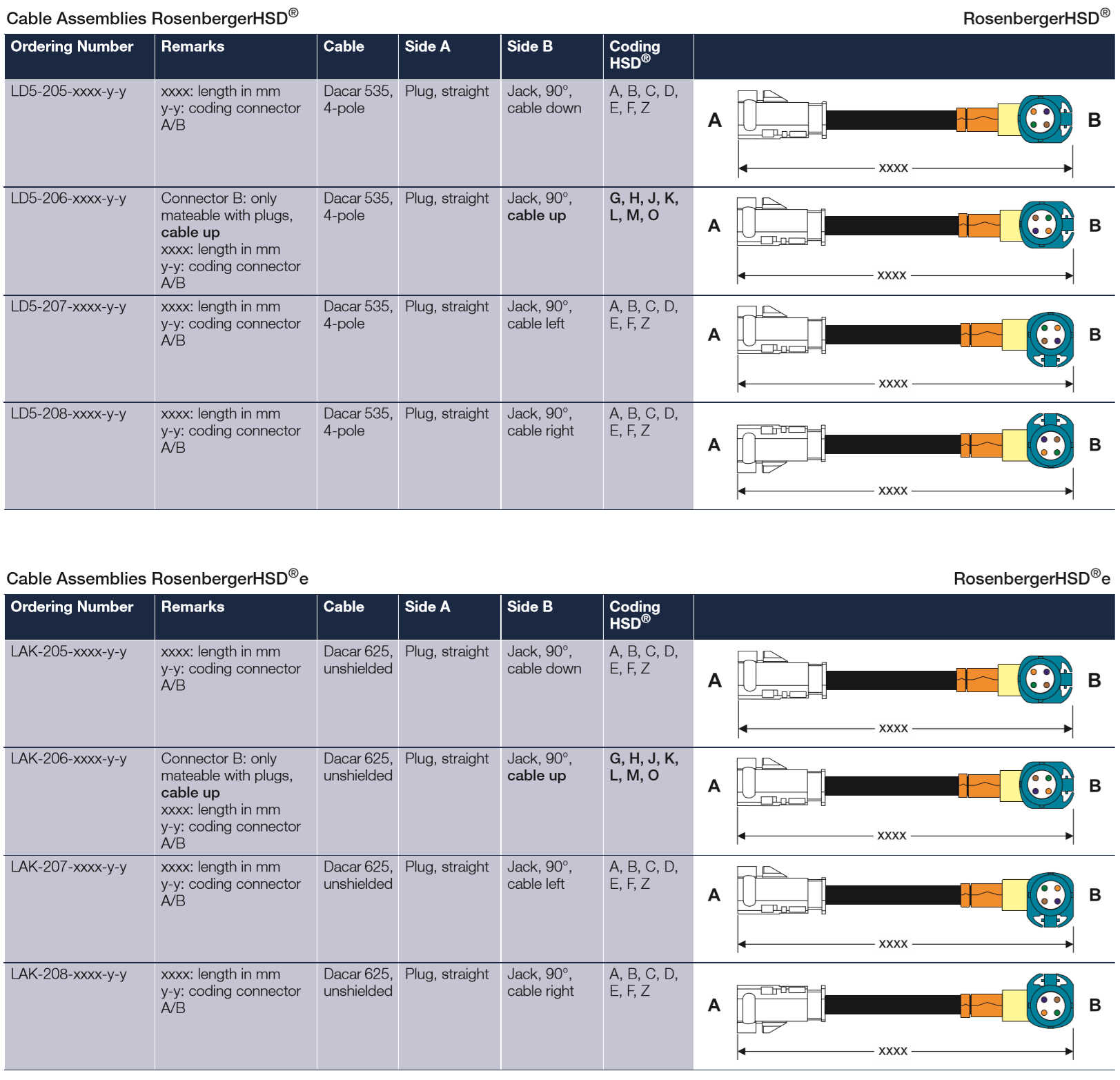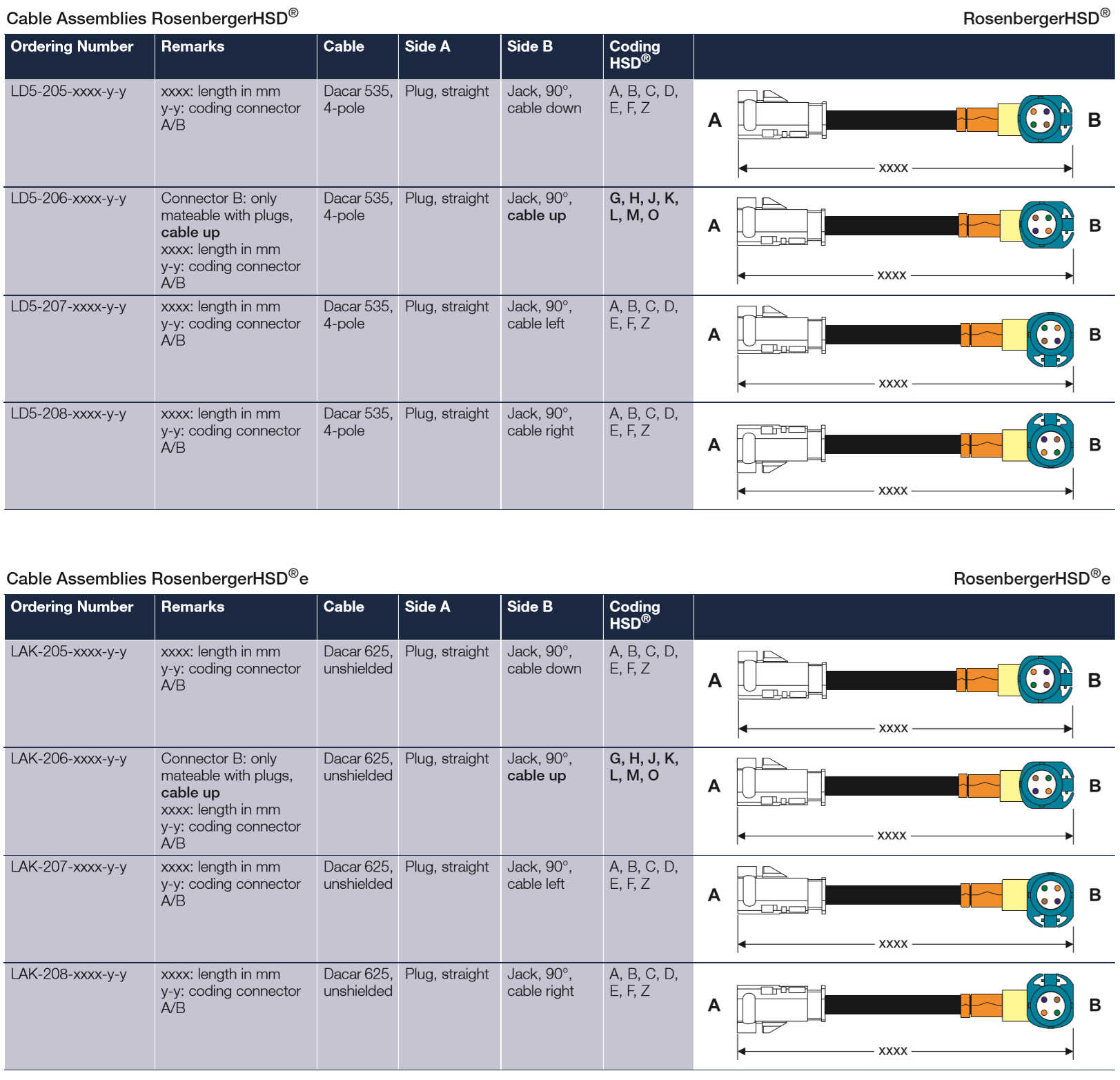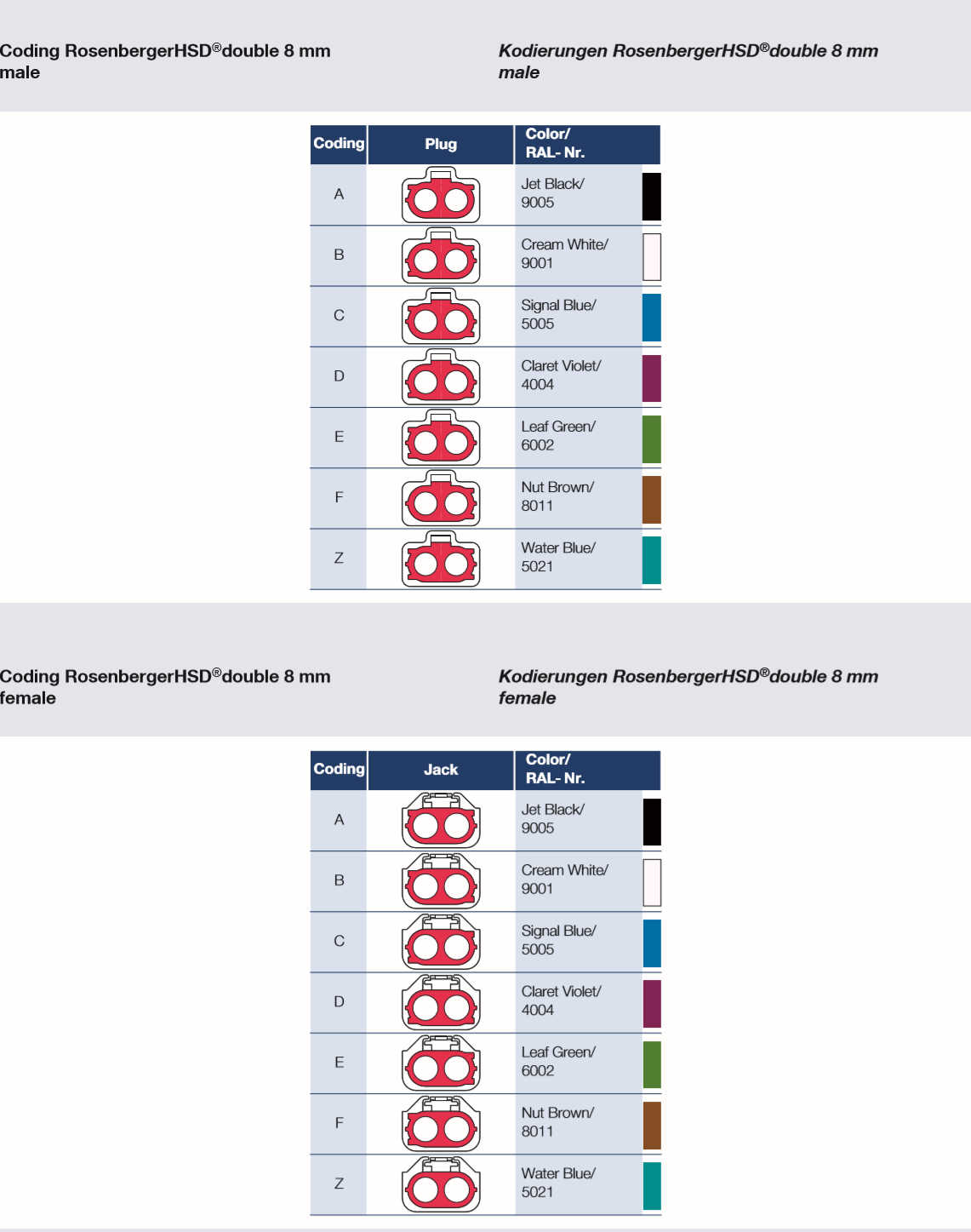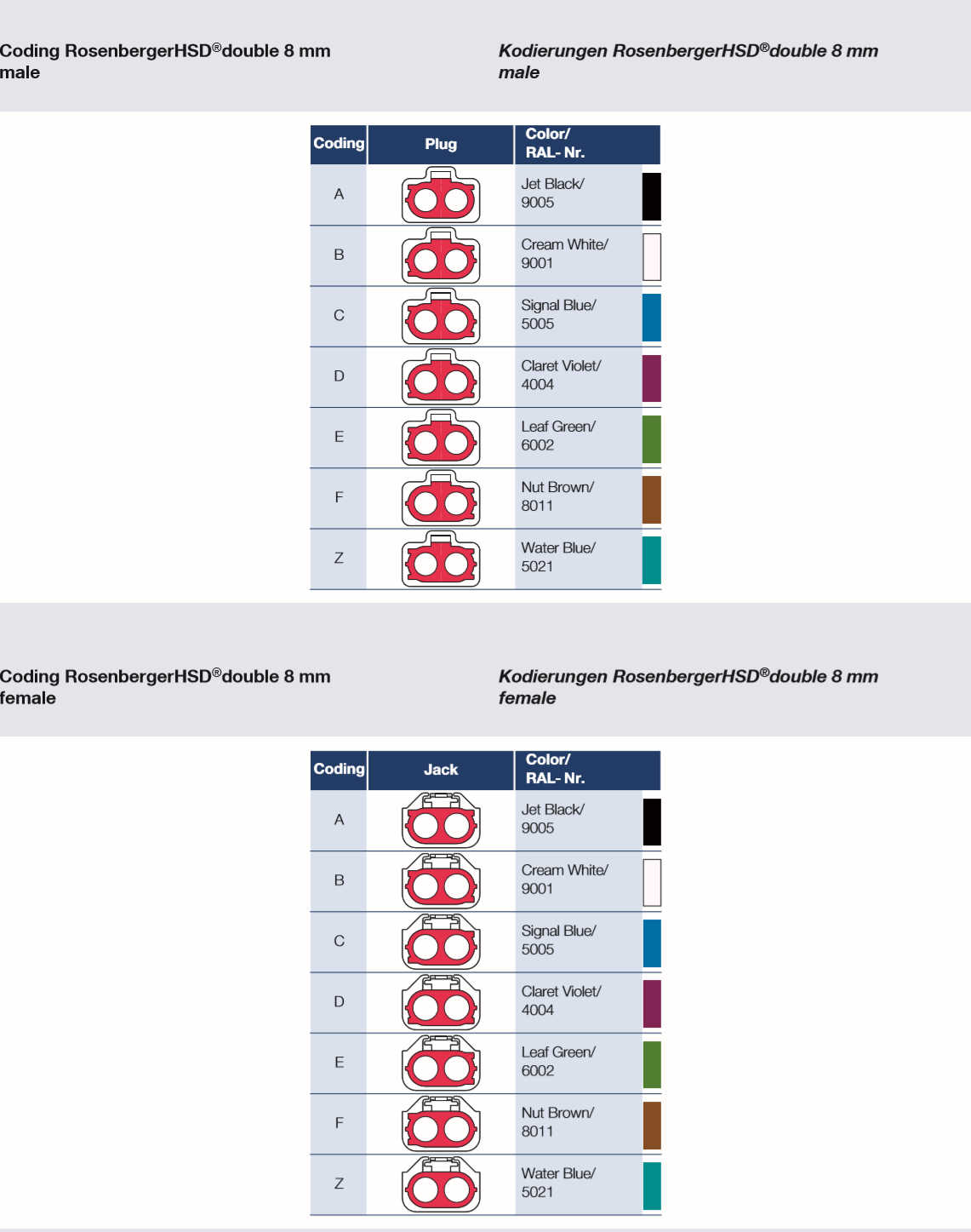 Applications and Protocols
Modern vehicles comprise a variety of complex networks and bus systems, providing a large number of security and comfort functions. By combining data and supply power on one single line, RosenbergerHSD® follows the philosophy of being the most versatile physical data transportation medium within the automotive environment today. Within certain limits it furthermore allows combining different protocols on the same line, forming a "Micro-Cable-Harness"s (e.g. LVDS and CAN). These intelligent configurations help to significantly reduce space, weight, complexity and costs of the cabling harness. Within this chapter RosenbergerHSD® pinning configurations for frequently used applications and protocols are shown. These pinning configurations are recommendations for the cables "A"-side only and do not describe the whole data link from device to device.
Anwendungen und Protokolle
APIX® is a high speed digital serial link for display and camera point-to-point applications. It can provide a bandwidth of up to 3 GBit/s in downstream direction over one data pair. The second data pair is used for transmission in upstream direction with lower data rate.
APIX®
CAN (Controller Area Network)
The RosenbergerHSD® star-quad system allows to transmit CAN Bus data and to provide supply power to a remote device via a single cable. The system can run over RosenbergerHSD® as well as RosenbergerHSD®e.
LVDS
RosenbergerHSD® is well known to be dedicated to automotive Low Voltage Differential Signal (LVDS) transmission. Due to optimized electrical performance, the system has proven to operate reliably even in the Gigabit range. Minimized crosstalk allows running two high speed data streams or data and supply power on only one cable.
xOrdering Number Remarks Panel Piercing / PCB Layout Coding HSD® Packing Unit xD4S10A-400L5-y wave soldering 4 signal pins MB 214 A, B, C, D, E, F, Z 125 tape & reel
xD4S20G-400A5-y wave soldering 4 signal pins
MB 261 A, B, C, D, E, F, Z 800 blister 175 tape & reel
xD4S2UG-400A5-y Connector only mateable with jack, cable up wave soldering 4 signal pins
MB 261 G, H, J, K, L, M, O 800 blister 200 tape & reel
xD4S20Y-400A5-y wave soldering 4 signal pins
MB 322 A, B, C, D, E, F, Z 50 blister 190 tape & reel
xD4S24D-400A5-y waterproof wave soldering 4 signal pins
MB 261 A, B, C, D, E, F, Z 25 blister
xD4S10E-40MA5-y pin-in-paste 4 signal pins
MB 328 A, B, C, D, E, F, Z 150 tape & reel
xD4S12H-40MA5-y pin-in-paste 4 signal pins
MB 285 A, B, C, D, E, F, Z 150 tape & reel
xD4S20L-40MA5-y pin-in-paste 4 signal pins
MB 215 A, B, C, D, E, F, Z 200 tape & reel
xD4S2UL-40MA5-y Connector only mateable with jack, cable up pin-in-paste 4 signal pins
MB 215 G, H, J, K, L, M, O 200 tape & reel
xD4S10A-1D5A5-y 4 signal pins components: D4Z002-000Y D4S10A-1D5A5
e.g. Dacar 535, 4-pole D4 V008 A, B, C, D, E, F, Z 125 tape & reel
D4K10A-1D5A5-y 4 signal pins components: D4Z001-000Y D4K10A-1D5A5
e.g. Dacar 535, 4-pole D4 V007 A, B, C, D, E, F, Z 2500
xD4K20A-1D5A5-y 4 signal pins cable down
e.g. Dacar 535, 4-pole D4 V009 A, B, C, D, E, F, Z on request
xD4K2LA-1D5A5-y 4 signal pins cable left
e.g. Dacar 535, 4-pole D4 V009 A, B, C, D, E, F, Z on request
xD4K2RA-1D5A5-y 4 signal pins cable right
e.g. Dacar 535, 4-pole D4 V009 A, B, C, D, E, F, Z on request
xD4K2UA-1D5A5-y 4 signal pins cable up
e.g. Dacar 535, 4-pole D4 V009 G, H, J, K, L, M, O on request
xD4K10C-1D5A5-y 2 x 4 signal pins components: D4Z009-000Y 2 x D4K10A-1D5A5 on request
e.g. Dacar 535, 4-pole on request A, C, D, B, E, F, Z on request
on request
xD4K20C-1D5A5-y 2 x 4 signal pins components: D4Z045-000Y 2 x D4K20A-1D5A5 on request
e.g. Dacar 535, 4-pole on request A, B, C, D, E, F, Z on request
on request
D4S10P-40MA5-y pin-in-paste 2 x 4 signal pins on request
on request A, B, C, D, E, F, Z on request on request
xD4S20W-40MA5-y pin-in-paste 2 x 4 signal pins
MB 427 A, C, D, Z B, E, F on request
135 tape & reel